Spring Box Local Charity Work & Donations
Delivering your unwanted goods to those who need it
We are challenging all our house move customer to donate their unwanted goods to charity. We have teamed up with three local charities close to us called Foodbank Clapham Park , Ace of Spades Homeless Shelter and The British Heart Foundation Furniture Charity Shop.
Ace of Spades:
Ace of Clubs is a family-like community providing transformative support for those who are homeless, vulnerable and otherwise marginalised in our area.
At the centre, on St Alphonsus Road in SW4 Clapham, they provide for the immediate needs of those in desperate circumstances with safe shelter, food, warmth, clothing, laundry and showers.
From this welcoming start, and through friendly and genuine care, they seek to build relationship with people.
The team at Ace of Clubs is skilled and focused in linking people in with a wide range of services including accommodation, welfare, rehab, training, healthcare and many others.
Ace of Clubs is a place where those who are alone can find acceptance, a sense of belonging and renewed purpose to see their lives restored.
A few of the highlights from last year were that they provided over 20,000 meals, welcomed over 1000 people through the door, helped over 100 people off the streets and into accommodation and supported 36 people into rehabilitation from addiction.
At the moment they are helping between 80 and 100 people per day. The number of people coming to us for help increases year on year due to the recession, benefits changes and a severe increase in homelessness. The recent Covid-19 challenges has increased our daily meals from 100 to 160 and are struggling to cope with the demand. Government cuts to public services means that more people than ever now depend on Ace of Clubs for support.
Food Bank Clapham Park:
Nobody in Lambeth or Wandsworth should have to go hungry. Clapham Park Foodbank provides emergency support to local people in crisis – mainly in Brixton Hill, Streatham, Clapham and Balham. The Foodbank is seeded from the TrusselTrust.org. The Trussel Trust support a nationwide network of food banks and together they provide emergency food and support to people locked in poverty, and campaign for change to end the need for food banks in the UK.
In the UK, more than 14 million people are living in poverty – including 4.5 million children. They support more than 1,200 food bank centres in the UK to provide a minimum of three days' nutritionally-balanced emergency food to people who have been referred in crisis, as well as support to help people resolve the crises they face. Between April 2018 and March 2019, food banks in their network provided a record 1.6 million food supplies to people in crisis, a 19% increase on the previous year.
They know it takes more than food to end hunger. That's why they bring together the experiences of food banks in our network to challenge the structural economic issues that lock people in poverty, and campaign to end the need for food banks in the UK.
The British Heart Foundation
By donating unwanted furniture to the British Heart Foundation Charity Shops they funded over £100 million of research each year. This goes into all heart and circulatory diseases and the things that cause them. Heart diseases. Stroke. Vascular dementia. Diabetes. They're all connected, and they're all under the BHF microscope.
Research has given them machines that can restart hearts, the ability to fix arteries in tiny babies, the power to give someone a heart they weren't born with, and so much more.
But heart and circulatory diseases still kill 1 in 4 in the UK, they cause heartbreak on every street. And that's why their work is as urgent and vital as ever.
Research, is the promise to protect the people we love. Our parents. Our brothers. Our sisters. Our grandparents. Our closest friends.
Research is who they are. The promise of future preventions, treatments and cures.
People's donations have got us this far. Every breakthrough they've made, funded by people like you.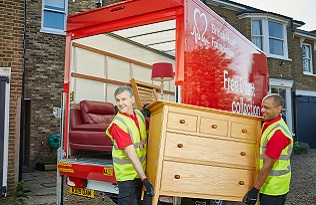 Our Challenge To You:
Now more than ever these charities need support. We are asking all our house move customers to please donate your unwanted food, clothes, toiletries and even furniture to these above charities. We will collect whatever is not needed when we do your house move and once a week deliver to these charities.
Unfortunately, whilst lockdown restrictions and social distancing are still in place we cannot take donations from clients for the British Heart Foundation charity as their shops are currently closed.
If anyone would like to donate money to these charities you can also do so by clicking on the link below.